Tale about success
or
How a poor boilerman got a studio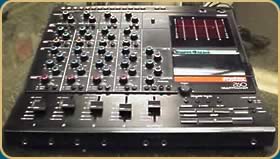 Recording studio 3bees, formerly Live&Loud and ere that Demos, was established in 1994 as a cheap alternative to professional but expensive recording studios. It really rose from ranks: less than 2 € for hour, five microphones (3 of them were made of plastic in Hongkong), four-track cassette recorder and basic instruments of shabby quality.
Self-styled sound engineer, who had recorded his own ideas for five years the same way, sat among musicians with Tesla headphones turning all the knobs and gadgets he could. He wanted to earn a little extra to his boilerman's salary. The motto on the leaflets he posted near musical shops was: "Four tracks ought to be enough for anybody". However, he earned nothing and resulting records were not pleasant.
Twelve years later, one hour in the studio costs ten times more, there work four sound engineers in double-shift operation and most of the production is formed by orders of the big labels. Is it a tale of success or history of betraing ideals?